Start main content
[Limited Offer!] Free LinkedIn Learning Courses & Job Hunting Resources for Top 10 Most In-Demand Jobs
11 MAY - 30 JUN 2022
[LinkedIn x Microsoft x GitHub] Free LinkedIn Learning Courses & Job Hunting Resources

LinkedIn, Microsoft and GitHub are offering free learning paths mapped to the following jobs that are in-demand, discounted Microsoft certifications to validate skills, and best practices for job searching and interview prepping. The offer will be available until June 30, 2022. You can get started in 3 simple steps: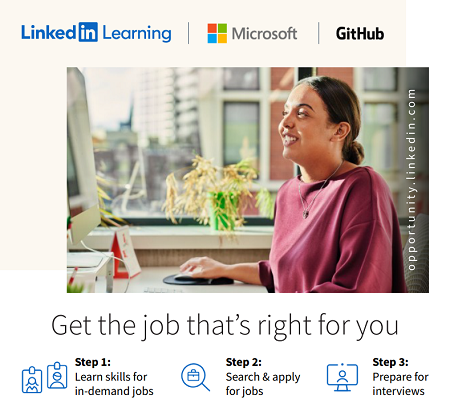 1. Learn skills for in-demand jobs:
Develop relevant skills for free with learning paths from LinkedIn Learning and Microsoft Learn, then practice tech skills in the GitHub Learning Lab.
#Explore and start your learning of the top 10 most in-demand jobs
Software Developer
Project Manager
IT Administrator
IT Support / Helpdesk
Sales Representative

Data Analyst
Financial Analyst
Digital Marketer
Graphic Designer
Customer Service Specialist
#Master critical soft skills
Set yourself apart by honing critical soft skills, from building emotional intelligence to effective listening and the ability to persuade.

#Learn the latest virtual collaboration tools
Thanks to digital transformation, we're all collaborating in new and exciting ways, from shared docs and slides to remote work.

2. Search & apply for jobs
LinkedIn's community and resources are here to help you find just the right role, update your profile to stand-out, and lean on your network for support.

#Find your next role on LinkedIn
3. Prepare for interviews
Interviewing is an opportunity to showcase your best self - from hard and soft skills to what makes you, uniquely you. Once you've landed the interview, we want to help you ace it. Here are courses, interactive tools, and common Q&A to ensure you do.

#Prepare for your interviews
Grab the chance to uplift your profile and learn more from: https://lnkd.in/gCF-4_X on or before June 30, 2022