Start main content
Jardine Matheson Rare Talent Academy: How to Prepare for a Business Career with a STEM background? (27 May)
18 - 27 MAY 2021
Dear students,

Looking to hone your skills and gain insider perspectives that'll help you prepare for future leadership roles?

Jardine Matheson's Rare Talent Academy webinars will help you upgrade skills, access career interests, discover industry trends and learn from Jardines professionals on how they lead successful businesses in some of the world's most dynamic regions. Students from all backgrounds and majors are welcome to join.

How to Prepare for a Business Career with a STEM background? (27 May)
Date: 27 May 2021 (Thu)
Time: 6PM - 7PM
Venue: Online via Zoom
Speaker: Carmen Lau, Head of Talent Acquisition, Jardine Matheson
Registration: Click here to register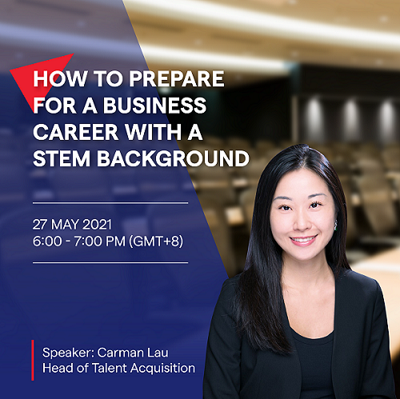 Register now to save your spot. Stay tuned for their upcoming webinars!

Regards,
Career Centre

Disclaimer:
The event information is provided by the event organised and is forwarded by HKBU Career Centre.
The data collected through the online application is solely administered by the organiser. HKBU Career Centre shall not be held liable in the case that disputes, loss or any other situations arise.
HKBU Career Centre shall not be responsible for any expenses incurred in this programme.