Start main content
The HKFYG Leadership Institute: Last Call for Summer School for Global Leadership 2021 Working Team Members
08 - 14 JUN 2021
The HKFYG Leadership Institute: Last Call for Summer School for Global Leadership 2021 Working Team Members

Do you want to spend a rewarding summer in a diversified, meaningful and fun environment working with young people? The Summer School for Global Leadership will be your chance to do something different! We are currently recruiting Group Leaders and Organising Committee Members for the Summer School for Global Leadership 2021.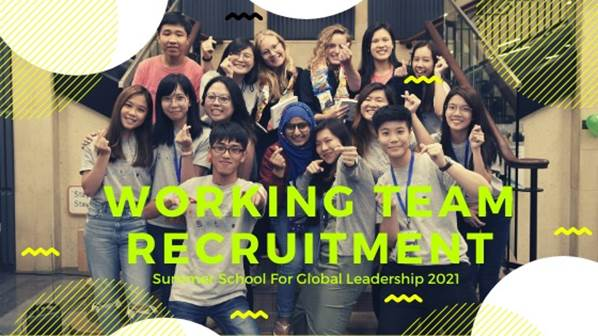 This is an amazing opportunity to learn from inspiring global and local trainers and develop your leadership skills, and be part of a dynamic learning community! Training workshops will be provided by facilitators, enlightening you to lead a group of young people, facilitate the entire programme and become the flame igniting future leaders. This will truly be a great experience that you would not want to miss out!
Details are as follows:
Theme:

The Pandemic: Tackling Poverty and the Growing Educational Digital Divide

Date:

16-18, 24-26, 31 July 2021

(7 day camp without accommodation)

Positions Available:

Group Leader (with remuneration)

Lead a group of 5-8 high school students
Experienced in training / facilitation
Working Period:
Training & Briefing: 3-4, 10, 13 July 2021
Day Camp: 16-18, 24-26, 31 July 2021

Organising Committee (Voluntary Allowance)

Provide logistic and event support
Working Period: Early July & 16-18, 24-26, 31 July 2021 (Day Camp)

Application Deadline:

14 June 2021 (Mon), 11:59pm

Interview Dates:

5-6 June 2021 (Sat-Sun) & 19 June 2021 (Sat)
We are looking for Working Team members to join us! If you are interested, please read the specific duties/ requirements and apply via http://bit.ly/SSGL21-WTAppForm on or before 11:59pm, 14 June 2021 (Mon). Share this message with your friends too!
Disclaimers:
The event information is provided by the event organiser and is forwarded by HKBU Career Centre.
The data collected through the online application is solely administered by the organiser. HKBU Career Centre shall not be held liable in the case that disputes, loss or any other situations arise.
HKBU Career Centre shall not be responsible for any expenses incurred in this programme.