Start main content
Nan Fung Group (南豐集團) Group Management Trainee Program 2022
20 OCT - 30 NOV 2021

Nan Fung Group (南豐集團) Group Management Trainee Program 2022

About the Programme
To support the growth of our business, we have launched a Group Management Trainee Program which is designed to heighten the career development of recent university graduates with high potential. Successful candidates will go through a 24-month program to prepare themselves for taking up major responsibilities in one of the major business areas.

You will have the opportunity to work across departments in our Hong Kong head office and will be involved in various parts of the real estate business and operations, ranging from identifying and recommending investment opportunities, performing relevant financial analysis, overseeing and monitoring the entire development cycle of a project, to putting forth sales, leasing and marketing initiatives. To gain a wider exposure during the program, there will also be potential short-term rotation opportunities outside Hong Kong.

Entry Requirements

Qualification
Recent university graduates in any discipline
Not more than 3 years full-time capacity working experience
Proficient in English, Cantonese, Mandarin
Caliber
A drive to achieve, lead and make an impact
Innovative and analytical
Passionate and energetic
A team player who is result-oriented
Flexible to change and strives for continuous improvement
Application Methods: Click here to submit your online application
Application Period: 4 Oct – 30 Nov 2021
Programme Details: Click here
Nan Fung Experiential Career Tour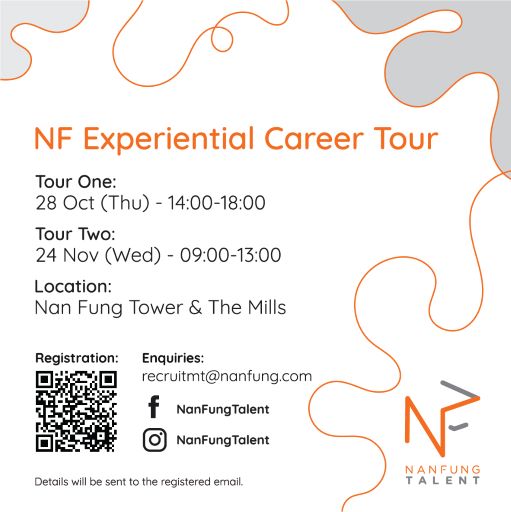 We believe that you would like to have a chance to meet with our Department heads, MTs and Program Manager. Here is the chance!
Language: Cantonese
Registration: Register HERE

*Disclaimer:
The hiring party provides the job description and administers the data collected through this job recruitment exercise. HKBU Career Centre shall not be held liable in the case that disputes, loss or any other situations arise.