Start main content
MTR Graduate Trainee Programme 2022 - Open for Applications!
22 OCT - 14 NOV 2021
MTR Graduate Trainee Programme 2022 - Open for Applications!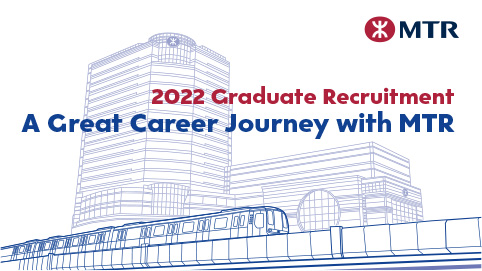 MTR Coporations Limited is now looking for talents to join its Graduate Development Programmes. To meet our business needs and to match individual profiles and aspirations, we offer our graduate development programmes along two streams:

Corporate General Management
Graduate Trainee Programme
Functional Professional Expertise
Corporate Affairs and Branding Associate Programme
Finance Associate Programme
Graduate Engineer Programme
Graduate Quantity Surveyor Programme
Human Resources Associate Programme
Information Technology Associate Programme
Inventory & Supply Chain Management Associate Programme
Property Associate Programme
Railway Officer Trainee Programme
Requirements
Final year students who possess the following qualities are welcome to apply:
excellent academic achievements,
high developmental potential
Good analytical and problem solving skills
Excellent communication skills in English and Chinese (including Putonghua).
Application: Click here to apply on or before 14 Nov 2021
You may choose more than one graduate development programmes. Please note that you will be required to indicate your order of preference(s) in your application. You are therefore recommended to take some time to familiarise yourself with the nature and requirements of each programme and decide on your order of preference(s) before making your application.

Recruitment Talk: MTR Graduate Development Programmes 2022
Date: 28 Oct 2021 (Thu)
Time: 4pm – 5:15pm
Venue: Online via Zoom
Registration: Click here
*Please register with your BU email. Upon registration, an auto-generated confirmation email with Zoom meeting details shall be sent to your email.
Regards,
Career Centre

*Disclaimers:
The hiring party provides the job description and administers the data collected through this job recruitment exercise. HKBU Career Centre shall not be held liable in the case that disputes, loss or any other situations arise.