Start main content
China Mobile International Limited: Global Graduate Trainee Programme 2022 opens for application! (IANG & Overseas students welcome!)
23 NOV 2021 - 13 MAR 2022
China Mobile International Limited: Global Graduate Trainee Programme 2022 opens for application!
*IANG & Overseas students welcome!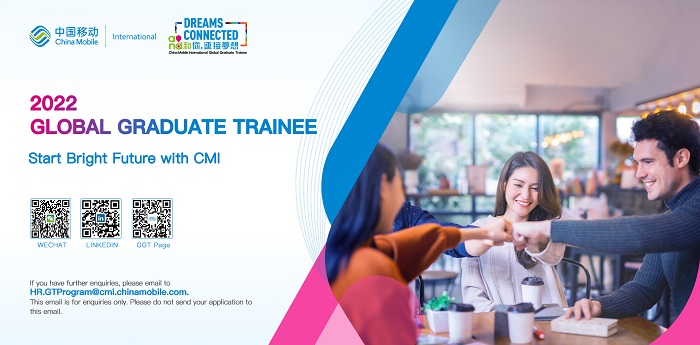 China Mobile International Limited (中國移動 CMI) is now inviting applications for its Global Graduate Trainee Programme 2022. Final year students (including overseas students) from Business, Engineering and Information Technology or related disciplines are highly encouraged to apply.

About the China Mobile International Limited (中國移動 CMI)
China Mobile International Limited is a wholly owned subsidiary of China Mobile. China Mobile is the largest telecom operator in the world by network scale and subscriber base and is among the top in terms of market capitalization and brand value. CMI has expanded footprints in over 20+ countries across different regions.

Your Bright Future Starts Here
The Global Graduate Trainee Program is designed as a 12-month fast-track career development for talented university graduates in our regional office. We aim to unleash your potential and lead you a promising career at China Mobile International Limited (CMI) with the following program details.

Start YOUR career journey with CMI by 3 Streams:
Technology and Network Stream (e.g. Solution Management, Project Management, Network Planning & Development, Implementation Engineer, Information Technology, etc)
Business Stream (e.g. Sales & Business Development, Product Management, Marketing & Market Analysis, Business Operations Support, etc.)
General Supporting Stream (e.g. Human Resources, Finance & Accounting, Merge & Acquisition, Procurement, Legal, etc.)
Program Structure:
Intensive learning and development program to acquire core job knowledge and skillsets
For Hong Kong applicants, he/she will be based in Hong Kong Global
Headquarters with International assignment participation
Overseas Working Opportunities and Job Rotation in global operations
Valuable opportunity for personal development and catch the exponential growth of CMI
Cross-departmental and international exposure through various projects to understand company business and operations
Direct coaching and mentoring provided by managers
Exploring by Visit and Activities:
Global Network Center Visit
China Mobile Southern Base Visit
Strategic Partner Learning Tour
CMCC Learning Tour
CMI Corporate Social Responsibility Activities
Qualification:
Final year students or recent graduates from Business, Engineering and Information Technology or related disciplines
Entrepreneurial and innovative
Passionate in the IT & Telecommunications industry
Excellent command of written and spoken English
Knowledge of Mandarin and Cantonese will be an advantage
Program Locations (Click here):
Hong Kong Applicants (IANG included): Hong Kong Headquarters
Overseas Applicants: Asia Pacific, Europe, Middle East & Africa, Greater China, North & Latin America (*Applicants need to ensure they have work permit to work in the location.)
Application Method: Please submit your application through our online application system on or before 13 March 2022 (Sunday).
You may visit our Career Page for more details of GGT 2022 Program.

For any enquiries on our Global Graduate Trainee Program, please contact us by email HR.GTProgram@cmi.chinamobile.com and state the apply location on email subjects, e.g. "Location - Global Graduate Trainee".

*Disclaimer: The hiring party provides the job description and administers the data collected through this job recruitment exercise. HKBU Career Centre shall not be held liable in the case that disputes, loss or any other situations arise.