Start main content
Sino Group (信和集團): Sino Corporate Management Trainee Programme is open for applications! (Deadline: 28 Nov)
24 - 28 NOV 2021
Sino Group (信和集團) - Sino Corporate Management Trainee Programme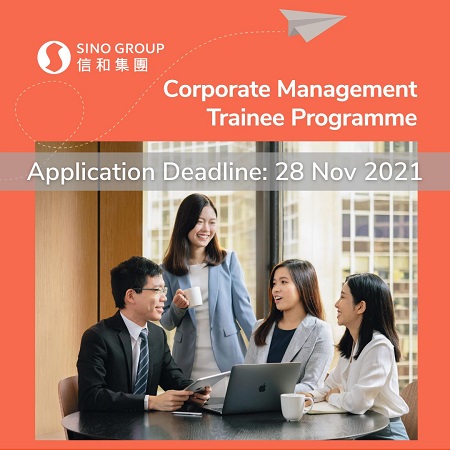 The Sino Corporate Management Trainee Programme is a 24-month fast track development programme for energetic and ambitious young talents who would like to develop a successful career with Sino Group. You will go through the following:
Job Responsibilities:
Rotate through major business functions for on-the-job training
Go through a customized training curriculum in specific business, management and personal development areas
Receive coaching, mentoring and shadowing opportunities for ongoing personal growth and professional development
Develop his/her potential and capability by undertaking various projects and delivering regular presentations/recommendations to the management
Requirements:
Have a local or overseas university degree, with less than 2 years of working experience
Aspire to develop their career in the real estate and property development industry
Have a drive to succeed and the courage to challenge the status quo
Have outstanding interpersonal and communication skills, and work well in a team
Possess strong business acumen and exceptional analytical skills
Are self-motivated, persistent and confident
To learn more about the programme, please visit the official programme page.
Application Method: Interested students please submit your online application via https://applymt.sino.com/#/ on or before 28 Nov 2021.
*Disclaimer:
The hiring party provides the job description and administers the data collected through this job recruitment exercise. HKBU Career Centre shall not be held liable in the case that disputes, loss or any other situations arise.