Start main content
HKSTP Summer Internship Fair 2021 (29 – 30 April 2021)
13 - 29 APR 2021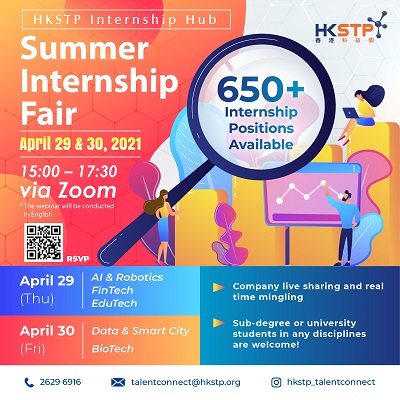 Dear students,

Hosted by HKSTP Internship Hub, HKSTP Summer Internship Fair 2021 is going to take place on 29 and 30 April 2021. 650+ internship opportunities are offered by 120+ HKSTP employers.

If you're looking for a summer internship opportunity with the Innovation & Technology companies at HKSTP, sign up now!

HKSTP Summer Internship Fair 2021
Internship Period: Summer 2021 (2-3 months)
Dates:
29 April 2021 (Thu): AI & Robotics, FinTech, EduTech
30 April 2021 (Fri) Data & Smart City, BioTech
Time: 3:00p.m. – 5:30p.m.
Venue: Online via Zoom
Language: English
Registration: Click here
Highlights:
Companies' Live Sharings
Real-time Mingling with Employers
Regards,
Career Centre
Enquiry: Ms. Christine Fung (T: 3411 2321 / E: csyfung@hkbu.edu.hk)


Disclaimer:
The data collected through the online application is solely administered by the organiser. HKBU Career Centre shall not be held liable in the case that disputes, loss or any other situations arise.
HKBU Career Centre shall not be responsible for any expenses incurred in this programme.